Holiday Tips for Keeping the Season Festive for Those on the Autism Spectrum
If you have a child on the autism spectrum or with sensory sensitivity, you know that holiday "fun" can lead to tears of frustration instead of smiles of joy. While no amount of preparation can make the holidays a snap, here are nine tips from the neurodiversity experts at Franklin Therapy (part of Franklin Center) for helping your neurodiverse child navigate the season.
Nine Tips for Neurodiverse Holiday Calm
Maintain
1) Routines. For some kids, a break from school is a reason to celebrate. For those on the spectrum or with other neurodiversities, change is hard. During holiday school and work breaks, those with sensory sensitivity may become dysregulated and overstimulated," said Katie Thormodsgaard, MSW, LICSW, Director for Franklin Therapy. "They might exhibit more sensory-seeking/avoidance behaviors and have meltdowns more frequently. Bedtime and wake-up times and routines should stay the same as much as possible. If you use visual checklists at home, don't forget to bring them with you if you travel." And she adds, "if an occupational therapist made recommendations for a special sensory diet, try to stick to that as much as possible for physical and emotional regulation."
2) Self-care. It can be hard to focus on you, as the parent or caregiver, during the holidays. But just like the advice you get on a plane – put on your own oxygen mask first! Block time for you to unwind and enjoy the holidays, just like you make time for others to enjoy the holidays.
3) Self-recognition. The holidays are a great time to practice self-regulation strategies. Because the holidays pack a lot of sensory stimulation and events into a short timeframe, it can be a good time for your child, at any age, to keep working on knowing when they need a break and what kind of break.
Prepare
4) Exit strategy. If you're going to a public event, know when to leave and how. That could mean picking an exit row at a holiday play or letting your party host know that you may need to leave early.
5) Gracious gifting. Giving and receiving gifts are handled differently in each culture and family. Practice in advance. If your tradition is to take turns opening presents, set that expectation and practice it ahead of time. And if your child prefers being more direct with feedback than other family members ("I wanted the blue one not the red one"), again, the holidays offer a lot of chances to practice social/emotional skills for all of us!
6) Your family &; friends. It's not only up to you and your child to prepare. Think about giving friends and family a little "tutorial" in advance. This can help avoid hurt feelings when your child doesn't want Grandma's hugs or refuses to touch your neighbor's classic casserole. You don't have to provide lots of details, just offer ideas. For instance, tips like "they love high fives more than hugs" or "we're letting them enjoy the holidays by eating only their favorite foods". You could ask your child to write a story or make a video about themselves to share with friends and family.
Create

7) A social story. Fortunately, no matter which religious holiday you celebrate, you know it's coming! That means you can take some time to plan out what will happen, when, and create what we call a "social story" around it. It can be as simple as talking about what's coming up while looking at photos from past years, or it can be more detailed, with descriptions and
images for each event.
8) Safe spaces and boxes. The lights, decorations, and music that make many people feel festive can be overwhelming. If you have space at home, create a corner where your child can retreat from everything holiday (it could even be under a desk or table). When you leave home for events or even a family member's house, create a "Holiday Bag" full
of their favorite calming fidgets, books, headphones, and other items. "If you work with a therapist, ask for recommendations of tools that may help your child and family," says Thormodsgaard. "Children with autism may benefit from weighted blankets, earmuffs, and specialty sand. Those with ADHD often find comfort in fidget toys and calming jars."
9) Stir the Senses with Care. Many children with sensory sensitivity can be overwhelmed with twinkling lights, fragrant food,
and music blasting everywhere. Introduce new sites, smells, and sounds one at a time when possible. Combine the new with familiar, cozy, sensory input as well. As with most new experiences, preparation and setting expectations are key. When it comes to decorations, for example, let them choose which items to display, or bring them shopping with you to pick items they like.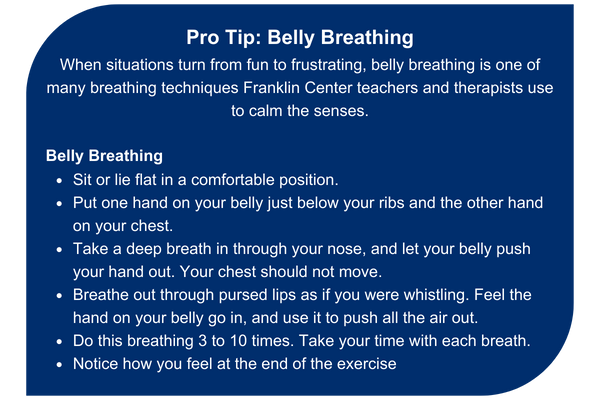 With some advance planning and clear communication, the holidays can be festive instead of frustrating. You may find that taking time to prepare your child extends the holiday feeling for the whole family, by allowing time to reflect and anticipate.